Details
Was it cold this morning?
We have a heat givaway!
From now until the end of February every purchase at www.lynxgear.lv will be added (chemical) MyCoal hand and body warmers for FREE!
They will serve well on your way to work, on public transport, on the hill and create a comfortable heat for several hours.

Forward the news, if you know that a friend will spend some time outdoors.
Details
For more comfortable use of our website we have implemented Wish list and item compare functions.
Several clients have asked us to implement these functions.
Hopefully other clients will find these functions easy to use and this will ease up the usage of our website.
Some technical details:
From now on you will see two buttons next to product names - each button for corresponding function. If you keep your mouse cursor on each of them, you will be able to see the hints. 
Wish list is your selection of products by any criteria, for example, products, that you wish to purchase in the future. If you will use this function after registration and logging in, your wish list will be saved on the web-page and will be available every time you log in. If you use Wish list function as a guest, it will be available only until you clean your browser's Cookies. 

Regarding compare function - you can select up to three products for comparison between each other. By doing this you will be able to see their description side by side on one page, which will allow to see the differences etc.
Details
On 11th and 12th August (2016) we have a business trip, so the orders will not be dispatched and products will not be available for receiving personally on these dates.
Website will operate as usual.
The questions are welcomed through the e-mail or telephone.
We apologize in advance.
Details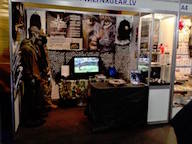 Jā, Aktīvās atpūtas izstādes Ķīpsalā ir atklātas un apmeklētājus savā stendā gaidām arī mēs! Lūk, kā mēs izskatāmies!
Lai prieks par šo notikumu būtu arī tiem, kas uz izstādi netiek, dāvinām 5% atlaižu kuponu ikvienam pirkumam, kas tiks veikts mājas lapā izstādes laikā – no šodienas līdz svētdienas vakaram. Viss, kas jādara, ir pirkuma noformēšanas laikā jāievada kods LG5. Un tas vēl nav viss. Visi šajās dienās veiktie pirkumi piedalīsies konkursā ar galveno balvu – dāvanu karti 30 eiro vērtībā. Ir vērts atnākt un piedalīties, vai ne!