K&R Sherpa BW 2 compass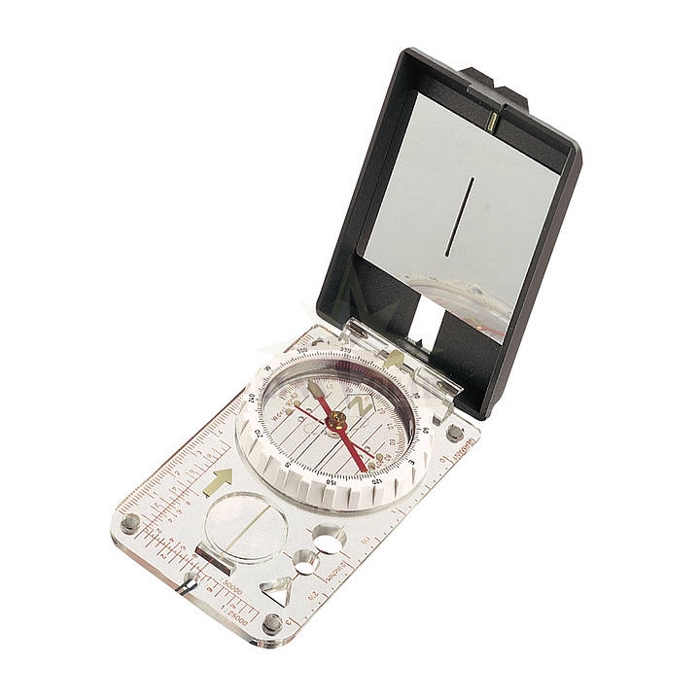 Description
Mirror compass suitable for night-use.
Developed and tested by the BRK mountain rescue service.
FEATURES
Developed and tested by the BRK mountain rescue service
Transparent plastic base
High-magnification lens (18 dpt.)
Three holes with alignment crosses
Cm and inch markings
Plan display/ruler 1:25.000 and 1:50.000
Anthracite-coloured lid made from special plastic with mirror on the inside and threeway sighting system
Extremely long orientation guide (17cm)
Fluid filled capsule with large map viewer (Ø 44 mm) and long needle with sapphire bearing
N/S- and E/W lines
Made in Germany
Easily movable rotary scaled ring with 360° scale (markings for every 2 degrees)
Adjustable correction for magnetic deviation (max. 90° W/E)
Luminescent needle tip, north symbol, bearing markings and index
Lanyard
DETAILS
Unit size: 105 x 60 x 16 mm
Imprint area size: 70 x 20 mm
Weight: 70 g
Kasper & Richter has been founded in 1920 to develop and manufacture fine mechanical precision instruments like compasses, altimeters, map measurers, pedometers and other fine products.
This company with its headquarters located in Uttenreuth (near Nuremberg, Germany) is a family owned business. Kasper & Richter combines modern customer service with long-time knowledge and creative workmanship. Precision made in Germany.
Links for K&R: website and catalog.
5 Star 0
4 Star 0
3 Star 0
2 Star 0
1 Star 0